I'm in bed on the cusp of some kind of illness, when the blog police (my sister) knock on my facebook wall and let me know that it has been far too long since I've updated my blog. She's right, as per usual.
That's fine because tonight we get to talk about
ice cream
. Now, I don't need to tell you that its summer and that there's a season for ice cream. We'll just skip to the part where I tell you why So Delicious ice cream is pretty great. But don't just take my word for it! I'm bringing in another ice cream expert (my boyfriend, Aaron) to give you the scoop (tehe) on the goods in my freezer. This is important because he really likes the flavors of ice cream that I'm generally not so fond of and I want to make sure this isn't totally bias. Also, he wouldn't have it any other way.
Meet Aaron, he's also a carrot cake expert.
Here's what the fine folks at
So Delicious
sent to me...
Cookie Dough, Mint chip, Butter Pecan, Vanilla Bean, and Cookies and Cream.
My Favorite Pint
My favorite of the pints was the Coconut Milk - Cookies 'N Cream. Don't get me wrong, I love coconut milk but when you're not expecting a flavor of ice cream to taste like coconut milk, it's a tiny bit distracting. I felt like this was one of the flavors that tasted the closest to what I had anticipated. Also, there is huge chunks of chocolate cookies in it! I'm not highly concerned with things being gluten free. In fact, it's fair to say that I whole-entire-heartedly love gluten. However, if you are concerned with gluten, you'll be stoked to know that the Cookies N' Cream pint is gluten free!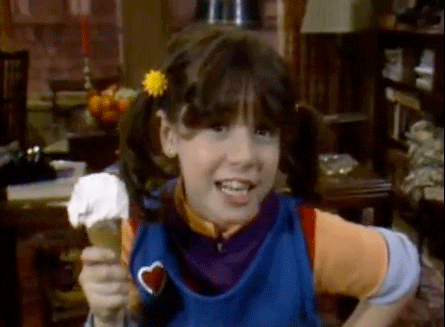 Aaron's Favorite Pint (I'm passing the computer to him. His words, not mine...)
Hi, nugans. Welp, I guess this is the first of what will hopefully be many cameos on this blog. So I and my tongue are gonna try not to screw this up too badly. (This is the first time I've blogged. Ever.)
I'm slappin' my seal of approval on the Butter Pecan. Which is weird, 'cause that's not ordinarily my bag. Not even close. But the thing is, they really nailed it with that flavor. It seems the thing with non-dairy ice creams is that whatever milk substitute they're using tends to dominate the flavor landscape. In the case of coconut milk-based deals like these, that's not a bummer -- far from it. Let's call it a mild distraction. But here, the intense richness of the butter/caramel/brickle/whateverthehellyoucallit was very much in gear and the pecans were seriously amongst. That stuff is gud.
Honorable mention goes to the Mint Chip. The green stuff used to be my go-to as a kid, back in the days before I got hooked on the hard stuff (chocolate chip cookie dough, for the uninitiated among you.) This Mint Chip is white. Not green. It's different from my old fix in a lot of ways, actually. It's not super creamy like you'd expect dairy ice cream to be. It's lighter. More refreshing. You taste the coconut milk clearly, but you welcome the flavor because it plays so nicely with the mint and the abundant chocolate chips (which they also got right here). It's a nice, slightly-less-sweet-than-you-were-expecting, almost tropical dessert experience.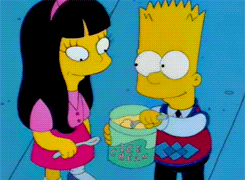 ...Back to Sam:
Holy Hell!!! Vanilla Bean is SO much better when you make it with coconut milk! I would put this on everything! Cake... pie...waffles..... sandwiches, it's gold! I used to make fun of my friends who would order vanilla bean when we went out for ice cream, in the past. You know, because it's
obviously
the boring choice. However, this would probably be my go-to if they didn't have Cookies N' Cream on the table.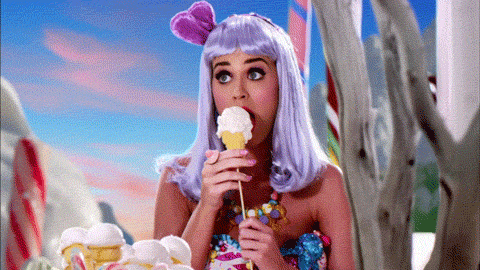 So Delicious also sent me a box of Mini Chocolate Coconut Ice Cream Bars. Admittedly, these were the first things we tried because we were running out the door for a band rehearsal when the box arrived. We figured they would be great for breakfast, since we hadn't had any yet.
**PRO-TIP:
Stirring your mini coconut milk chocolate ice cream bar in your coffee will be the best thing you've done all morning, trust me.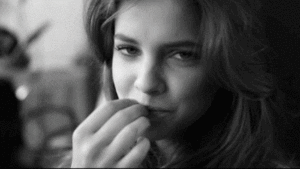 Fun Facts about So Delicious:
If coconut milk isn't your thing, don't sweat it! So Delicious makes awesome ice cream and yogurt flavors out of their other kinds of non-dairy milks too! They also make yogurts (and a GREEK YOGURT!) which I will write about later when I have a few different kinds to test out!
Trying to keep sugar out of your diet? No problem! They have ice cream sweetened with monk fruit. Yes, that's a thing. It is usually extremely low-zero calories. It looks a lot like an apple on the outside and it is native to southern China and northern Thailand. Ice cream and yogurt aside, this company makes loads of dairy-free products! Check out the rest at
So Delicious!
One more thing,
I'm pretty sure Aaron forgot to mention the fact that he pretty much ate all of the Cookie Dough ice cream before I could even get to it. It's fair to say that he really
really
enjoyed that one too.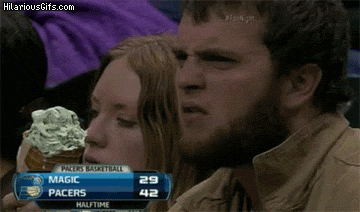 Thanks to
So Delicious
for not only sending us all this ice cream to try out but for being so great to speak with via email! (I'm talking to you, Hillary!)